Hello, big 90's Dance, 808 State and ChemBros fan, I also DJ under the name Loose Link. So made a mix, hope you all dig it, it reminds me of their early live sets, I might do another one on 808 State at some stage:
https://www.youtube.com/watch?v=fFo8KpFLoGU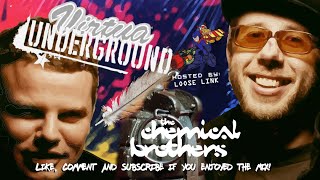 "Today on the VIRTUA UNDERGROUND we present a special tribute to UK electronica titans THE CHEMICAL BROTHERS, who helped push dance music into the mainstream worldwide in the 90's with their big beat styling, while also being included in various movie and video game soundtracks. DJ LOOSE LINK sifts through their discography and jams out a 30 minute mix of their music, resulting in a journey that is somewhat similar to their terrific live sets they are also known for throughout the years.
VIRTUA UNDERGROUND is a audio-visual video mix series that's primarily focused on Video and Computer games of yore (with the occasional special episode on something else). DJ Loose Link spins up a little collection of video game music each time, then sets them to energetic visuals and gameplay footage from all around that compliment the mood of the mix. Its been awhile since the last episode, so Loose Link delivers a short slice of upbeat, driving techno to help grease those gears up again for future adventures!
Like comment and subscribe to help grow the channel, so that more mixes, future let's plays and more can come out. Enjoy!"
Here's more mixes if you are interested:
https://www.mixcloud.com/craig-gillman/